Ingredients
Grease a 9x13-inch baking dish.

Mix rolled oats, steel-cut oats, rice cereal, dried fruit, and almonds together in a large bowl.

Melt butter in a saucepan over medium heat; add brown sugar, honey, and vanilla extract. Whisk until sugar is completely dissolved, about 2 minutes. Pour over oat mixture; stir to combine.

Spread oat mixture into prepared baking dish. Press chocolate chips into top. Refrigerate until chilled, about 1 hour.
PREP 10 mins
COOK 5 mins
READY IN 1 hr15 mins
I found this recipe at Allrecipes.com one afternoon before leaving on a mission trip. When you have 3 growing children and a 6 hour drive, you need something to keep them filled to prevent melt downs.
This is a great 'base' recipe. First of all, I used what I had on hand. I used all regular quick cooking (store brand) oatmeal, along with store brand crispy rice cereal (obviously I don't care about name brands!) With the fruit I added more than 1/2 cup. I didn't measure, but it was probably closer to 1 1/2-2 cups. I mixed raises, dried apple, dried cranberry and dried blueberry. Instead of almonds, I used sunflower seeds. I also left out the chocolate chips (going to be a hot drive!) In the couple of times I have made this, I have changed up the ingredients a bit - just because I don't want to get bored with it. Everyone loves it every time.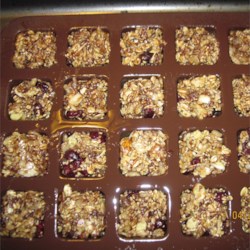 I have noticed with the South Texas heat that these yummy granola bars 'melt'. My solution - wrap them in foil (easy to grab and go) and store them in the freezer. The big kids love them icy cold. They may be hard for a younger child to eat this way (just store in the fridge maybe)
Enjoy!