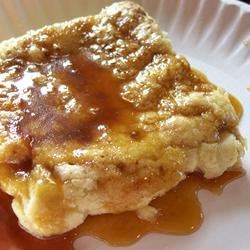 Who doesn't like ooey gooey syrup on pancakes, waffles and French toast? I love it! It's hard to find a good syrup that we all like that I actually want to pay for.
Here is the best recipe ever. I found it on
allrecipes.com
.
Use a very large pan
because you are using baking soda and buttermilk (or milk with a tbsp. of vinegar - think back to elementary school and what happens when you mix vinegar and baking soda :)
Ingredients
1 1/2 cups white sugar
3/4 cup buttermilk
1/2 cup butter
2 tablespoons light corn syrup
1 teaspoon baking soda
2 teaspoons vanilla extract
Directions:
In a
very
large pan combine sugar, buttermilk, butter, corn syrup, baking soda; boil for 7 minutes. Remove from heat and stir in vanilla. Spoon over slices of pancake.
Yup - that easy. Keep it in the fridge and just microwave when you want to use it.
I store this in several smaller jars, so that I am not reheating the entire thing too many times.